The diary of my African hair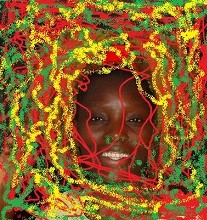 Part one

One of the biggest blessings/curses of being African is the African hair. On a good day, I can do anything with my kinky twisted African hair.  On a bad day, well…I'll not go there.
A few weeks ago, I undertook what has so far turned into the craziest hair  experiment I have ever had. Here is what has so far happened…
Day  1:

I look in the mirror for the first time and I am shocked at the stranger staring back at me. In my wildest dreams I wouldn't have thought that that stranger was related to me, let alone that it was my own reflection. I make a mental note to undo all of it before someone sees me and thinks I have lost it. But I am so tired. I decide to rest and undo it later.

An hour later:

My eight year old daughter sees me and screams in delight.
"Mummy that is so cool!" she says staring at me and touching my hair. I stare at her suspiciously wondering whether she is being sarcastic. She has only recently discovered the power of sarcasm.
"Are you sure?" I ask her over and over again.
"Yes" she swears doing the sign of the cross like I taught her(If you lie and do the sign of the cross, something bad will happen to you!) Always works like a charm. She still kind of believes that I know everything!

About two hours later:
Her dad comes home.  I listen as they chat about school. I don't come out of the bathroom. I am torn between believing my daughter and undoing my new hair.

Moments later:
I finally come out of the room. He stares at me for a second without saying anything. In that second, I am ready to grab a pair of scissors and cut off my hair. And then he bursts out laughing.
"That is so cool!" he says getting up to examine it.
"Are you sure?" I ask. "What does 'cool' mean?" I continue anxiously remembering that my daughter had also used the word 'cool'. He pauses for a moment.
"It looks nice" he says simply. He has a cheeky smile that I can't quite interpret.

The rest of the evening:

I avoid looking at myself in the mirror. A small part of me believes those two or desperately wants to.

3 am:

My three year old son calls out from his bed. He wants milk.  I take him his bottle. He sits up. "What is that?" he asks pointing at my hair. He looks terrified.
"My new hair" I explain a bit taken aback at the terror in his eyes.
"I hate your orange hair" he says.
"They are not orange" I protest, but he is already closing his eyes…
(Part two, coming soon!)