Diary of my African hair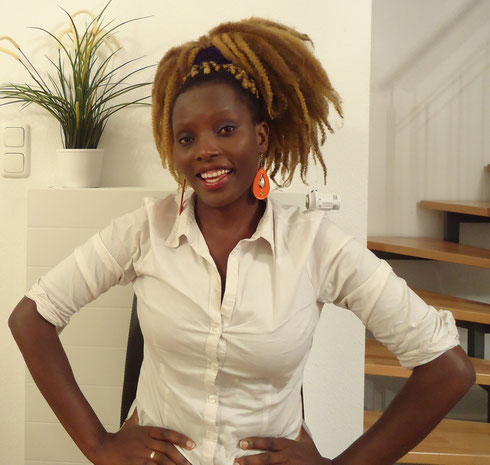 (As promised, I bring you part three of the story of my hair, a continuation of  part one and two.)

By the end of that day, two things had happened that totally threw me off and made me question my ability to asses or predict anything. First, hubby's favorite football team Hoffenheim had for reasons that I still don't understand beat the mighty Borrusia Dortmund. For a team that had barely beaten anyone during the season, it was as close to a football miracle as I had ever seen.
Secondly, I had not only been approached by one model scout but by five different
Model scouts! Five!
It was one of those bizarre days that throw one in an alternate reality. A reality in which everything is upside down.
For the days that followed, I was wrapped in a state of  ecstasy. The discomfort of looking at my reflection in the mirror was slowly turning into awe and admiration for the glamorous woman that stared back at me. Why didn't I think of this hairstyle before? I asked myself over and over again. The interest of the model scouts had intoxicated me in ways I would never have thought possible.
I have always considered myself comfortable in my skin which in my language means something like 'other people's opinions are just that, opinions.'
But why was I suddenly excited about what those model scouts thought? 
Wherever I went, people stared at me which in itself is not unusual. At 176 cm, I am taller than the average woman, add a dark skin in a predominantly white country, and it is easy to understand why one would turn heads.
 But these new stares were different. They weren't the casual one second glances that I was used to. These were long stares often accompanied with open mouths and mumbles. You'd think that that would be reason enough to be concerned. Apparently not in my books. There were too many good things happening. At around that time, while Skyping with a friend who lives in the United States, I heard her seven year old daughter in the background ask, "Has Auntie Caroline become a movie star?"
That one question did wonders. The niggling doubts disappeared.

For the days that followed, I was a bundle of smiles.
"I love kids and their honesty!" I declared to hubby displaying my incredible selective amnesia. A week earlier, my three year old's declaration that he hates my hair had almost driven me into depression.
But like most delusions, my trip to cloud nine was short-lived.
A week later, I went to IKEA, a Swedish furniture chain  famous for its meat balls and childcare services. I walked through the glass doors and heard giggles and cheers from a group of kids. I turned and saw that the kids were all cramped next to the window in the play room. They were chuckling amongst themselves  and pointing at me.
Beaming with the confidence of my new found movie star allure, I smiled modestly at them, waving my fingers lightly in how I imagined Sandra Bullock would do it.  The kids went wild with cheers and that is when I did what turned out to be a big mistake.
I walked up to them.
"Are you a clown?" They asked in unison.
(Dear reader, as you have probably guessed by now, my new hair style came with its own set of tribulations. In the next part, I will bring you a summary of the highlights!)