The person at the gym
"Oh my God, what is that?" I hear a voice as I step into the changing room at my fitness studio.  The person is 50sh, 60sh, 70sh. I have no idea. It has a small frame and is clad in a shiny tight purple lycra outfit that make it seem metallic.
 The blond-brown hairs are neither short nor long. They just hang loosely some of them carelessly on the forehead.  I conclude that this person is a woman since this is the ladies changing room. She looks up  and something about her screams broccoli and a thousand sit-ups.
"That is fantastic!" she says slowly pointing her finger at me.
 I meet her gaze and I can barely stop myself. I burst into a huge flattered smile and mouth my 'thanks' before quickly switching back to my muted smile. Muted smile. That is what my smile has been reduced to.  Ever since the kids at IKEA asked whether I'm a clown, I can't bring myself to  smile properly.

 I walk to the corner and throw my gym bag down. I turn to open locker number 51 just like the previous countless times. The metallic woman follows me. I don't turn to face her but I feel the ghostlike presence that is hovering over me.
"Can I touch it?" I hear her voice.
Common sense would scream hell no! But ever since I started wearing my hair this way, something else has taken over.
"Yes of course!"  I turn and tell her in my most composed nonchalant voice.
She touches my hair and bursts into giggles. Scratchy giggles.
"It is gorgeous." She mumbles in a ridiculously shrill voice.  I nod not sure what to say. The thing is, I have learnt my hairs' ability to cause emotional outbursts. What I haven't learnt yet, is what to do about those outbursts.  
Intensity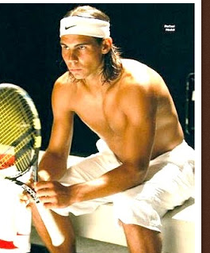 I busy myself tying my laces. The metallic woman is now somewhere in the middle of the room doing her best to stretch. From the corner of my eye, I watch her squat while clasping her fingers tightly. Her intensity reminds me of Rafael Nadal.  I tie my laces, first loosely and then tightly and then loosely and then tightly again. No one comes into the changing room.
I give up and meet her trancelike stare. "Everything okay?" I ask her. I quite like the fact that she thinks my hair is gorgeous.
"You look like sunshine!" she declares.
Huh?
But she isn't finished yet.
"This is the best hairstyle for Africans" She continues in a tone that suggests that she has just experienced a breakthrough in her life's calling.
Pictures of my African friends flash through my mind in pretty quick succession. First there is Stella and then Wendy, then there is Zuhal, then Winnie, then Salome, then Vivienne all wearing my new hair style. I burst out laughing.
She laughs too but I'm sure for a completely different reason.
Insight:

1.I look like sunshine!
2. This is the best hairstyle for Africans!