Visiting Tunisia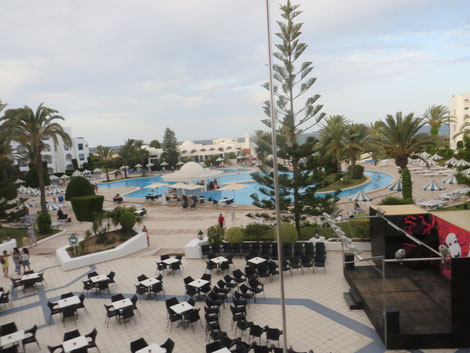 "The president will be here shortly!" The taxi driver told us looking into the distance.
The president? We all wondered though none of us said anything. It was one of those moments, when you can clearly read everyone's mind.
We had booked a camel trip to the desert that was supposed to start at 2 pm. But at 2 pm, no one came. At 2.30 pm, this guy arrived.
"I take you to the camels!" he had told us. We had jumped into his taxi relieved that he knew our names and the fact that we were waiting to be taken to the camels. But the taxi had come to a screeching halt, at this deserted train station, with no camels in sight.
"Please comfortable comfortable." He had told us pointing to the bench. His English was halting, laden with French and perhaps Arabic. His smile was open in a don't-trust-me kind of way.
We made our way to the bench. It was shiny and new and looked completely out of place. The four of us plopped onto it.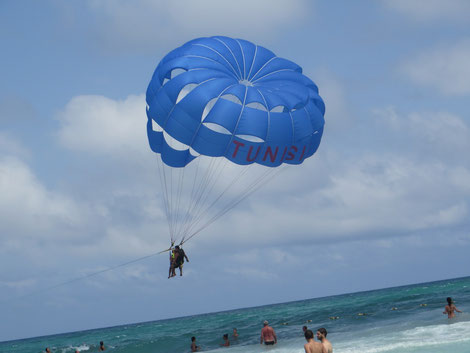 In the horizon, the Mediterranean glowered at us, as comforting in its stature as it was menacing. A cool breeze swept through. We watched the colorful parachutes above the sea. Even though we were too far away, we could tell that they had 'Tunisia!' or 'New Tunisia!' boldly emblazoned on most of them.   Tunisia had recently sent their president packing and they were determined to remind everyone that the country had turned a new leaf.
I remember gently moving the hands of the nine year old, putting them on her knees. It was the least I could do, in anticipation of the president even though I had no idea what kind of a president it was or why we were waiting to meet him.
She promptly moved them back and heaved a sigh.
Her little brother burst into a triumphant giggle. 
 How did booking a camel ride into the desert lead us into a deserted train station with a lone dark green bench waiting for the president?
"President late sometimes" the guy said as if reading my mind.  
"But where are the camels? Tour de chameau ….?" Hubby started visibly agitated. The taxi driver looked at him carefully as if unsure what he was talking about.
The taxi driver's phone started ringing. He grabbed it and started chattering, moving his hands wildly.
"Is this for real?" Hubby hissed in my direction, his face a mixture of bewilderment and something else that I don't quite have a word for.
It was our third day in Tunisia. The travel agency booklet at the hotel had a few sentences translated into Arabic, which they reckoned every tourist needed.
'Go away!'
 'Go away I have no money!'
So far, no one had asked us for money. 
"He is coming!" The taxi driver turned to us. "President is coming!" he repeated in his jubilant voice. We all instinctively stood up.
"Now I go." He announced in a matter-of-fact tone.
"What?" Hubby and I gasped.
"President is a good man!" He said slowly looking mildly amused.
 In the distance, we heard a throttling sound of a motor bike and watched as it sped in our direction, leaving bounds of brown dust in its wake.
The taxi driver understood this as a cue to get into his taxi and start the engine. We watched as the motorbike came to a stop.
"President!" he pointed at the man on the motorbike and immediately took off.
We watched the president climb down from the motorbike. His sweat soaked shirt was an off-white color with blue polka dots strewn all over it. His shirt was not tucked in, perhaps because of his big tummy. He wore green plastic sandals which were understandably dusty. He took off his sun glasses and fixed us with his eyes. I remember wondering where we could run to. There was not a single moving soul. The twigs and shrubs all seemed to have succumbed to the ferocity of the desert heat. This was in 2014, way before extremists Muslim groups started targeting tourists in Tunisia. A year later, a gun man would open fire and kill thirty-eight tourists in the Tunisian tourist resort in Sousse, not too far from where we had been.
 "Bonjour!" he called out, walking forward. I stood there my heart pounding. Hubby was holding the kids' hands tightly.
 "I am president…..El presidente" he said grasping our hands and shaking them vigorously.
He was a big man. With an even bigger smile.
"President camels!" he said pointing at himself. I let out a huge breath.
In the distance, a caravan of camels was approaching us.
"Does 'president' mean something else in Tunisian?" The nine year old turned to ask.
"There is no language called Tunisian!" I told her barely able to suppress a smile.