Does one really have to go to Venice? This question doesn't matter at this point seeing as I have just come back from Venice but it's one that anyone thinking of going to Venice should probably ask themselves.
On the 14th of August 2018, my husband and I and our two kids arrived in Venice. The decision to go to Venice was a culmination of curiosity and a need to visit what most people claim is one of the most amazing cities in the world.
I was excited to go but on  the day we arrived, it was raining cats and dogs and the mood was both gloomy and miserable. 
A bridge had collapsed in
Genoa
and the news on all Italian TV channels was dominated by pictures of  destruction and grief stricken shell-shocked witnesses and residents. 
By all accounts,we couldn't have chosen a worse day to arrive.
Venice Lido (Lido de Venezia)
On the second day, we woke up to a bright sunny day. The clouds had magically disappeared and the temperatures had soared to 32 degrees. Even though it wasn't 24 hours since the bridge collapse in Genoa, it now seemed like something that happened in the distant past. More than thirty  people were now confirmed dead and the number was expected to rise but amazingly, life was going on. I was reminded of the day my younger sister died and my disbelief the next day when I woke up to realise that despite the darkness that engulfed me, the sun had risen and people were going about their businesses as if it was a normal day. I wondered about the parents who had lost their kids and the kids who were waking up to a new morning as orphans. It was a painful reminder of the lonely nature of grief.
Our hotel was located in Venice Lido, a nearby island of Venice which could only be accessed by ferries and water-buses. Our plan was to combine our trip to Venice with a beach holiday. We would swim at the hotel and the beach during the day and visit Venice in the evenings. We found out that the ferries and the water-buses drove 24 hours a day, every 12 minutes which basically meant that we could drive as many times as we wanted into Venice and come back whatever time we felt like. This sounded like a great plan, until  we found out how much this would cost us. A 10 minute ride with the water-bus into Venice cost us 60 Euros.
Needless to say, going to Venice everyday let alone several times per day was out of question.
Venice, the surprises
There are tonnes of things to say about Venice.Like any visit to any new place, there were very many surprises. Some good and some terribly annoying.
1. Safety in Venice
One of the things most people told us when we told them of our plans to visit Venice was to watch out for our valuables.  Big Italian cities don't have a particularly good reputation when it comes to safety. A German teacher told me how her students were  robbed in early July on their visit to Rome and their phones and money stolen. Before that, her parents in law had been robbed on a night train from Frankfurt to Italy even though they had been wide awake the whole time.There were many other hair-raising stories from pretty much everyone we talked to.
 Our experience was completely different.
We  didn't lose anything but more importantly, we never had the feeling at any given time that we were in danger. The streets in Venice were  full of all kinds of people, a good number of who carried Gucci or Louis Vuitton bags but none of them seemed to be clutching tightly onto their bags. This lack of wariness and the many Polizia strolling around probably contributed to our feeling of safety.
2. Child friendliness
We were told that Italy is extremely child friendly but our experience in Venice sharply contradicted that. Two different restaurants didn't let our 8 year old son use the bathroom claiming that it's reserved for their guests.  This kind of hostility towards kids has never happened to us anywhere else. In public transport, there seemed to be no difference in fares charged for kids and adults.  The water buses and the ferries charged kids above 6 years adult prices which is frankly speaking, nothing short of scandalous.
3. Restaurants in Venice
 We expected Venice to be extremely expensive. The truth however was that there are restaurants for all budgets. We ate at restaurants along the grand canal, one of the most popular spots in Venice and the food was reasonably priced. Pizza generally cost between 10 and 14 Euros which is comparable to any ordinary restaurant in Germany. Other foods were a bit more expensive but they were still not comparable to heart-attack inducing prices that are so common in Paris. The prices included service charge and when we tried to give a tip, the waiter declined telling us that it was already included in the price. 
One of the most refreshing things  was that one was not automatically expected to order a drink with their meal. The waiters would bring the food and drink menus and take our orders simultaneously. In contrast, waiters in Germany often come and take the orders for drinks and then serve them first before taking the order for food. The result is that one feels pressured to order a drink even when they don't feel like it because they would otherwise feel like a moron or a stingy person since restaurants are known to make the most profits from drinks.
4. Crazy hotels
Even though we had specifically booked a hotel with a swimming pool, we soon found out that it was a near impossible venture. The hotel receptionist told us in her unblinking polite way that we would have to pay 20 € per person per day in order to access the pool. This would mean 80€ per day for all of us. As we stood there open-mouthed, she added that they could give us a discount of 10 Euros per day. We have never paid extra to use the swimming pool of a hotel we stayed in and I suspect that this terrible practice is perhaps only in Venice.
And so we silently cursed and walked to the beach. But more surprises awaited us. There was a public beach with no facilities to wash off sand or go to the toilet. Next to this was a private one that charged 27 Euros and provided an umbrella and two sun-beds and access to bathrooms. And then there was another level of private that ranged from 50 to 120 Euros per day.
Needless to say, we used the cheaper private beach. We also used the hotel swimming pool once on the day that swimming in the sea was not possible as a result of the presence of jellyfish.(That's a whole different story!)
5. Everyone is in Venice
Nothing quite prepares you for the spectacle that is the St. Mark's square, the main center of Venice. On our first day, it seemed to me like the United Nations was having their yearly convention. From hawkers selling selfie-sticks to head-to-toe Gucci cladded crowd, to youthful police strolling around, the world was practically gathered in Venice.
People were chatting excitedly but mostly, they were taking pictures. That Venice has so many tourists from every corner of the world didn't surprise me at all.  What was really surprising was the high number of Asians living and working there. We ate several times in restaurants that seemed to have all Indian-staff. Also notable were female Chinese masseuse walking along the beaches and offering their services.
6. Gondolas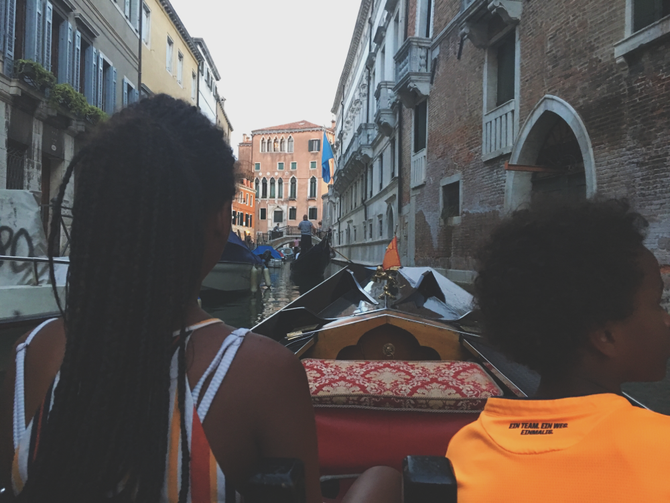 On the surface, riding a Gondola might seem like the most shallow, lazy touristic and cliche thing that one can do in Venice but I can not stress enough how much fun it was. We rode it  in the evening and had to pay  100 Euros for a 30 minute ride instead of the daytime price of 80 Euros. Sitting in a Gondola gave me a different very magical perspective of Venice. The gondolier, a fairly young Italian man narrated in very thick Italian accent which places we were paddling past. He seemed to know everyone and basically greeted and talked to people in the apartments. It was very entertaining and was probably the most Italian thing we did in Venice.
7. Water in Venice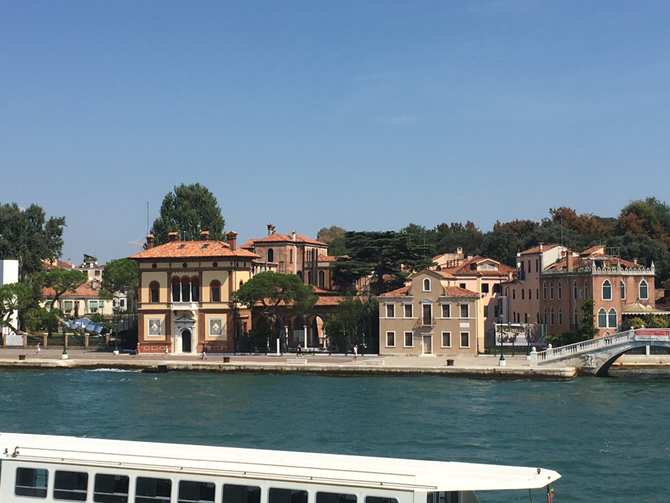 That Venice has houses standing on water is probably one of the reasons so many people flock to it. I was curious about this too but not because I thought it was a particularly good idea. For someone like me with dodgy swimming skills, I cannot imagine a worse place to live in. Standing on the many bridges that seem to be in every corner of Venice and watching people alight from taxi-boats and step into their apartments as if they were living on land, did nothing to alleviate my fears. I wondered how many people had 'accidentally' fallen into the canals and been swept into the open Sea. I could imagine how a couple's fight could easily end with an "accidental" push into the canals. A sleepy toddler wandering into the water and an anguished mother screaming their hearts out. A tipsy young man missing a step and landing on the bottom of the Mediterranean. There were no limits to how horrid I imagined life in Venice could turn out to be.
But despite this, Venice had an unmistakable morbid charm that sucked me in and left me in wonder.
Would I recommend a trip to Venice?
Absolutely.